Lighter Poetry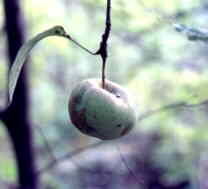 Here is some poetry that is a little lighter in flavor:
Apple
In the glow of the candles
I extended my cupped hand
And offered you...an apple.
You smiled knowingly,
But your hand was trembling as you took it from me.
Your eyes never left mine
As you slowly raised the apple to your mouth.
I leaned closer and held my breath
As your teeth tore into its dark red skin.
And when your tongue flicked out
To catch a stray drop of juice,
My breathing became ragged.
I think that when Eve gave away that apple
She gave away her strength,
For I felt vulnerable with my passion.
I tried to twist away
But you caught my shoulders,
And pulled me to you.
The apple was forgotten
Except for a lingering taste in your mouth.
Drought
...and it was so dry.
I brought the garden hose
Into my small apartment
And turned it on.
The water ran cool and free
As I twisted round and round.
And then, naked,
I ran outside with a spoon and a bucket
To gather some dirt.
The neighbors gawked and gaped
For a wild and primitive sight was I.
And I was wild...primitive.
I covered the floor in mud,
Felt it squish between my toes.
Oh god, I like it wet,
So I turned the hose on me.
I danced and leaped
With only the water as my partner
Until we fell to the floor.
As I laid writhing,
I wanted to grow algae,
I wanted fish to live and swim within me,
I...and the water stopped.
My roommate,
She stood over me
Trying to force words past her parched lips.
As she stared at the pool I had created,
I flung my arms and water upwards
Inviting her to join me.
I could only tell her,
The drought had finally ended.
If you have any comments, you can e-mail me at hfoster@juno.com
All contents of this web site and all pages contained within are
copyright 1990-2004 by Heidi A. Foster.